The Ideal Solution To Your Caulking Needs!
14 PCS OF A PERFECT CAULKING FINISHER!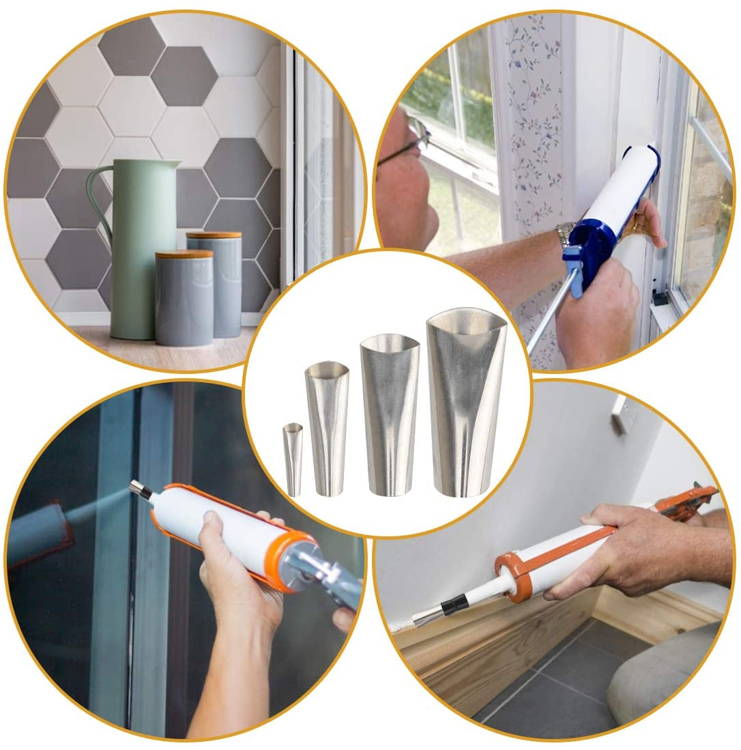 Easily improve agglutination quality! Create and remove excess caulk like a pro while soothing materials into gaps easily with the all-new Perfect Caulking Finisher.
It comes with various sizes that ensure to satisfy all your caulking and sealing needs. Fill in and seal gaps easily while getting rid of the messy and uneven caulking jobs!
Perfect for applying caulk to countertops, windows, tile, siding and more! No need to struggle for angles and corners anymore!
Wear resistant and durable
Smooth glue delivery
Wide application
High cost performance
HOW TO USE:
Cut Off The Extra Part Of The Extension Nozzle
Wrap With Adhesive Tape Until It Just Fits Into The Stainless Steel Nozzle
Put The Extension Nozzle Into The Stainless Steel Nozzle
Then Tightly Wrap It With Adhesive Tape
FREQUENTLY ASKED QUESTIONS:
Q: Where can i use your product?
A:    These caulking nozzles can be used in doors, windows, kitchen, bathroom, tank, toilet, sink joint filling finishing..
Q: Can it be cleaned and reused, or do you have to throw it away after each job?
A: Very easy to clean with a damp cloth and reuse, reduce the waste of sealant, convenient and quick to use, saves money and time.
Q: Do you give any warranty for your products?
A: Because we believe the quality we provide our customers is the best, all orders come with 30 days full money back guarantee!